2015 BROOKSIDE MEN'S GOLF CLUB
MEMBERSHIP RENEWAL

This is a reminder that it is time to renew your Brookside membership for 2015. You can do it either by renewing online with a credit card or save $5.00 and send a check in with the membership renewal form that was mailed to you in November. If you don't have a renewal form you can email me and I will send you one or you can download one on-line.

If you plan on playing Team Play this year you must be renewed by December 31st.

Brookside is still the best deal for regular memberships in golf clubs because your prize money for 2015 is paid for with your membership.

Thanks for renewing.
Sincerely,

Ken Miller
kgmbmgc@aol.com
BMGC Membership Chairman
---
The 2014 BMGC Board elections are now final. Returning from the Board for the 2015 term are Art Longoria, Ed Sayer, Randy Gottlieb and Rob Moore. Congratulations Gentlemen!
---

Congratulations to Dan Sullivan
2014 Brookside Men's Club Champion
and
2014 Pasadena City Champion
---
December 1, 2014

Dear Members:

I wish to let you know that I have resigned from the Board of Directors of the Brookside Men's Club. The Board recently accepted my resignation, along with my decision to end my term as Club President December 31, 2014. I am doing this primarily for personal reasons and the need to attend to family needs and priorities. This week, the Board will meet and select a new Club President and other club officers for 2015.

It has been an honor and privilege to serve as Club President this year. I leave the Board with the satisfaction that we have completed numerous beneficial projects during the year.

We have delivered a high quality program of monthly and major tournaments, including the Pasadena City and Pasadena Senior Golf Championships. We successfully converted our Member-Guest tournament to a more open Invitational Tournament. We have kept the tradition of special events, such as out-of-town tournaments and the annual Christmas Party. We have published the Club Roster, updated our by-laws, established a financial oversight committee, and implemented a member recruitment campaign (including club member business cards and recruitment messages in Brookside golf carts). We have continued to support the Pasadena First Tee Program.

In conjunction with Brookside's management and Brookside Women's Clubs, we have initiated a campaign for pace of play at Brookside and introduced the value of "Ready Golf" throughout Brookside's golfing community. With severe drought conditions and a heavy load of parking events, we have advocated for the maintenance of the best possible playing conditions. All these accomplishments reflect the work of the Board as a whole.

I have endeavored to improve communications with members and players throughout the year, and to introduce a level of professionalism in the management of Club meetings and activities. As I leave, I know there are areas of unfinished business. I am confident that the new President and Board with will work to maintain and improve upon our accomplishments this year.

The club still needs a centralized information center in the clubhouse, including a better trophy case to highlight our championship players. I hope suggestions from club members will be pursued, such as the installation of a large clock on the starters building facing the driving range, and a project to improve short-game chipping and bunker practice area.

Although I will no longer be a member of the Board, I will continue to be an active club member. I will always support the idea of more involvement among individual members regarding Club activities and decisions. For various reasons, member attendance at membership meetings has become almost nonexistent. I believe an alternative mechanism, such as an independent player's council, might provide an avenue for a larger member voice at Brookside.

I wish you all well, and will see you on the course!

Ron Hansen, Club President
---

Addendum to the local rules for all BMGC tournaments and matches:
Any damage caused from vehicles parking on the golf course for Rose Bowl events is ground under repair (GUR). This rule is through the green (whole area of the course except the teeing ground, the putting green being played and all hazards).
Relief is the closest point no nearer the hole for stance and swing. No penalty.
---
Brookside is located next to the world famous Rose Bowl in Pasadena, California and is managed by American Golf and the Rose Bowl Operating Company.

---
Dan Sullivan earns first SCGA individual title with 2012 SCGA Public Links Championship victory

http://www.scga.org/2012publinks/results.aspx

After winning a slew of partner events, Brookside GC member Dan Sullivan won his first individual SCGA title Sunday, beating Kevin Fitzgerald of Riverside in a playoff at the 2012 SCGA Public Links Championship. Sullivan birdied the first playoff hole, the par 4 first hole of Brookside's #1 course, to secure the victory.
"I've been playing in these events for a long time, and it feels great to finally win one," said Sullivan.
Entering the day with a two-stroke lead, Sullivan got out to somewhat of a rough start Sunday, bogeying his first hole of the day. After finishing the front nine at 2-over par, the Pasadena resident finally earned his first birdie of the round on the par 5 559-yard 11th hole. He would eventually finish the round at even par, giving him a three-day total of 9-under par 205.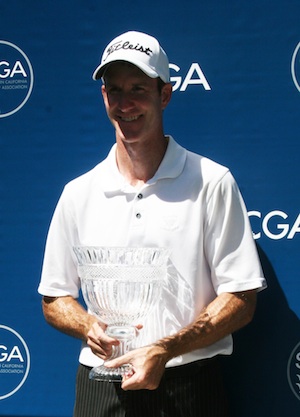 Fitzgerald matched Sullivan's score of 205 for the tournament, carding a 2-under round of 70 Sunday to force the extra hole. His tee shot on the first playoff hole went right of the fairway, however, leaving the door open for Sullivan to make his move. After firing his tee shot right in the middle of the fairway, Sullivan hit what he called his best shot of the weekend, landing his second shot just two feet from the hole. He would tap in the easy putt for birdie and the win.
"I hit a bad drive there earlier in the day, so approaching the tee I was really just focused on hitting a good first shot," said Sullivan. "I was fortunately able to do that."
16-year-old Jonah Texeira of Northridge earned himself third place at the event, finishing just one stroke behind Sullivan and Fitzgerald. Texeira kept himself in the hunt with the day's best round, a 4-under par 68, but trailed the leaders by one stroke heading into the 18th hole. He was unable to birdie the hole on a tough uphill putt that went wide of the hole.
Sean Birren of La Verne finished in fourth place while defending champion Tim Hogarth, Brennan Amirkhizi and Jeff Coburn tied for fifth. Sullivan had also won the event back in 2008 when it was still called the PLGA Amateur Championship.
---