2014 Pasadena City Men's Amateur Golf Championship






Championship Flight - Play 4 Days - Top 48 & ties to weekend!
The Championship Flight is an open flight (no age limit) conducted over 72 holes. This year the Championship Flight will again be contested on Brookside Course #1 and Course #2. The Field will be cut to the top 48 and ties after 36 holes, to play the finals on Course #1 Saturday & Sunday.

Please note that Championship entrants must have a verifiable handicap low index of 3.0! A certification of your playing ability from your pro or coach is also acceptable. Please send the certification with your entry.

Net Flights - Play 2 Days - Saturday and Sunday!
Open to all players 18 or older with current index ranging from 3.1 to 21.4,
using lowest index of the last three months (Feb. 1 to May 1). Entrants with higher indexes must play down to a 24 handicap. The field will be divided into six flights to play over 36 holes, playing one day on Course #1 and one day on Course #2, alternating on Saturday or Sunday. Handicaps will be based on Course #1 slope 129. The tournament committee reserves the right to adjust handicaps based on previous tournament play. All adjustments are final.

Entrants' clubs must have a certified handicap chairman listed with the SCGA and is another requirement for eligibility. If your club does not have a handicap chairman you will be declared ineligible. This pertains only to the net flight.

---
ATTENTION ALL BMGC MEMBERS
Addendum to the local rules for all BMGC tournaments and matches:
Any damage caused from vehicles parking on the golf course for Rose Bowl events is ground under repair (GUR). This rule is through the green (whole area of the course except the teeing ground, the putting green being played and all hazards).
Relief is the closest point no nearer the hole for stance and swing. No penalty.


---
Brookside is located next to the world famous Rose Bowl in Pasadena, California and is managed by American Golf and the Rose Bowl Operating Company.

---
Dan Sullivan earns first SCGA individual title with 2012 SCGA Public Links Championship victory

http://www.scga.org/2012publinks/results.aspx

After winning a slew of partner events, Brookside GC member Dan Sullivan won his first individual SCGA title Sunday, beating Kevin Fitzgerald of Riverside in a playoff at the 2012 SCGA Public Links Championship. Sullivan birdied the first playoff hole, the par 4 first hole of Brookside's #1 course, to secure the victory.
"I've been playing in these events for a long time, and it feels great to finally win one," said Sullivan.
Entering the day with a two-stroke lead, Sullivan got out to somewhat of a rough start Sunday, bogeying his first hole of the day. After finishing the front nine at 2-over par, the Pasadena resident finally earned his first birdie of the round on the par 5 559-yard 11th hole. He would eventually finish the round at even par, giving him a three-day total of 9-under par 205.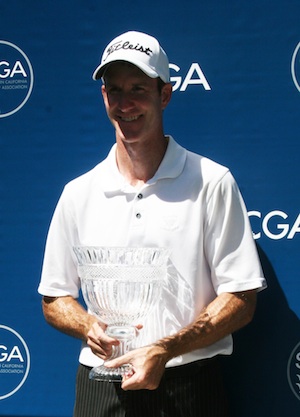 Fitzgerald matched Sullivan's score of 205 for the tournament, carding a 2-under round of 70 Sunday to force the extra hole. His tee shot on the first playoff hole went right of the fairway, however, leaving the door open for Sullivan to make his move. After firing his tee shot right in the middle of the fairway, Sullivan hit what he called his best shot of the weekend, landing his second shot just two feet from the hole. He would tap in the easy putt for birdie and the win.
"I hit a bad drive there earlier in the day, so approaching the tee I was really just focused on hitting a good first shot," said Sullivan. "I was fortunately able to do that."
16-year-old Jonah Texeira of Northridge earned himself third place at the event, finishing just one stroke behind Sullivan and Fitzgerald. Texeira kept himself in the hunt with the day's best round, a 4-under par 68, but trailed the leaders by one stroke heading into the 18th hole. He was unable to birdie the hole on a tough uphill putt that went wide of the hole.
Sean Birren of La Verne finished in fourth place while defending champion Tim Hogarth, Brennan Amirkhizi and Jeff Coburn tied for fifth. Sullivan had also won the event back in 2008 when it was still called the PLGA Amateur Championship.
---
2012 Pasadena City Senior Men's Amatuer
Click on link below to see results.


http://pasadenacityseniorchampionship.com
---
Dan Sullivan and Mark Miller take 2012 Foursomes Championship Crown
http://www.scga.org/2011calendar/foursomes.aspx
After one of the most dramatic finishes in the history of the SCGA Foursomes Championship, the team of Mark Miller and Dan Sullivan emerged once again as victors for the second consecutive year.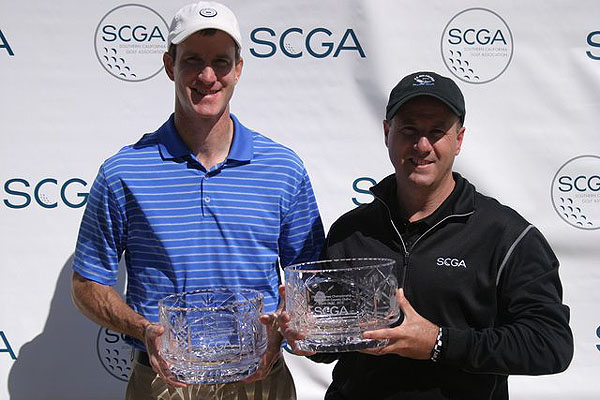 For those who know North Ranch CC, it's no secret that no lead is safe heading into holes 17 and 18 on the Oaks nine. After developing a two-stroke lead heading into the difficult 17th, the duo of Miller and Sullivan carded a double bogey five, which put them in a tie with the team of Tim Hogarth and Corby Segal with one hole to play. Segal's approach shot to the 18th came to rest just beyond the green. After encountering a brutal lie in the rough, Sullivan managed to gouge out an approach shot which ended up short and left of the green. Now faced with a 30-yard pitch shot, Miller hit a shot that any golfer would dub unbelievable.
"I caught it a little thin, and when it was in the air I was just hoping we'd have a 15-foot putt coming back," said Miller. Instead, the pitch shot was gobbled up by the flag and suspended in the air for a moment, only to softly land within two inches of the hole. After Sullivan tapped in for par, the side had posted a score of 147 (+3). It was up to Hogarth and Segal to get up and down, but when the side's attempt at par did a 90 degree lip-out, the championship belonged to Miller and Sullivan.
"We play together all the time and really like hanging out – that shouldn't be underrated," said Sullivan in reference to their success as a team. In fact, both players admitted that they are better as a team than they are individually. Ironically, the two-time defending champs admitted to not really having a strategy. "Dan is a much better iron player, so we tried to set up the holes in a way where he'd be hitting the majority of the iron shots," said Miller. Sullivan, too, gave ample praise to his partner, stating during the awards ceremony that Miller had carried him for 36 holes. Perhaps not placing blame or taking credit is the key to conquering this difficult format. When asked if they considered themselves the best two-man team in Southern California, the modest duo simply shook their heads. That said, after back-to-back wins at the Foursomes and a second place finish at the Four-Ball, it's tough to argue that any team is any better. They've never finished outside the top six when competing together in a team event.
Playing alongside brothers Joey and Tony Behrstock as well as Hogarth and Segal proved to be a great final pairing for Miller and Sullivan. Commonly referred to as the "Brookside All-Stars" Miller, Sullivan and Hogarth routinely play together at Brookside GC. Miller also played high school golf against Segal, so there were definitely familiar faces in the group.
While Hogarth is no stranger to playing in the final group in SCGA championships, Segal is relatively new to this position. The two paired up due to the fact that they play a similar game. "He hits it straighter than I do," Hogarth jokingly said. "I'd take him as a partner any day." The reason Segal doesn't play in as many SCGA events is because of the travel associated with his day job – he's the caddie of PGA Tour professional, Briny Baird. When asked about his nerves today versus a crucial round on tour with Briny, Segal admitted that playing is a lot harder. "I'm always around the caddying aspect of the game, and talking is a lot easier than doing!"
The Foursomes Championship proved once again why it is the most grueling event in the SCGA's championship rotation. The alternate shot format makes it nearly impossible for players to find a rhythm as it is such a different format of play than most are accustomed to. "You can never say sorry to your partner," said Dick Engel who finished in a tie for third place along with partner Brent Brockermeyer. "Stuff happens out there, and that's just golf." North Ranch CC didn't surrender a single red number, and only two teams managed to shoot one round of even par (72) throughout the tournament.
After being doused with 1.8 inches of rain the day prior to the event, the course drained incredibly well and proved to be in excellent shape for the two days of play. Kudos to the entire staff and membership at North Ranch Country Club for being exceptional hosts.





LOCAL GOLF: Birren wins Pasadena City with early, late birdies
By Nathan Cambridge, Correspondent Pasadena Star News
Posted: 05/20/2012 09:08:18 PM PDT

Read more: http://www.pasadenastarnews.com/sports/ci_20670172/local-golf-birren-wins-pasadena-city-early-late#ixzz1vfAHF8xM
PASADENA - Key birdies on the first and 17th holes propelled Sean Birren to a two-stroke win over Benjamin Lien in the 77th Pasadena City Golf Championship at Brookside Golf Club on Sunday.

"It feels great," said Birren, a resident of San Marino who shot a 1-over-par 73. "I've been putting in lots of practice, lots of time.
"This is the biggest tournament that I have won."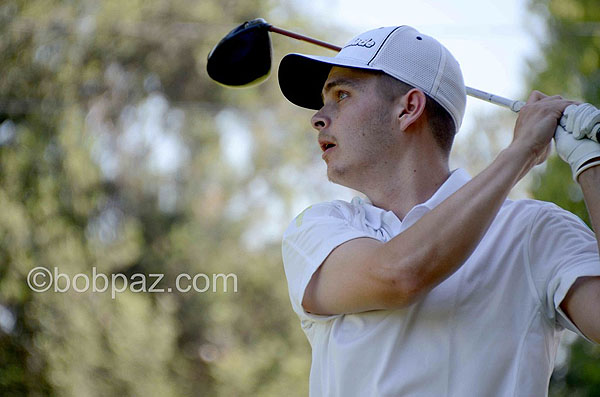 Birren came into the final round tied with Lien, a former Los Altos High School standout, at 7-under after three rounds, but Birren took the lead after the first hole and never relinquished the advantage. On the par-four first hole both players drove to the left, but Birren's approach stopped only a few feet from the cup and made birdie.
Lien's second shot skipped over the green and into a flood channel. He wound up with a double bogey, resulting in a three-stroke shift on the leaderboard.
"Second shot I didn't really play the right shot, hit it over the green into the hazard. So, I mean it was a rough double bogey," Lien said.
Birren's lead swelled to as many as four shots, but after a bogey on the par-4 16th put him at six under, his lead was down to a single stroke. Two behind at that point was eventual third-place finisher Jon Levitt, who also was playing in the final group.
On the par 3 17th, all three players found the green. Birren then made a 16-footer for birdie.
"(That putt) was important," Birren said. "I think I was nursing a one-stroke lead and I got that one to drop and had a two- or three-shot lead at that point."
Levitt two-putted for par while Lien, whose putter let him down on several occasions Sunday, three-putted for a costly bogey.
"I had plenty of opportunities (on the back nine), but I kind of just didn't make any putts. Hit a couple putts too hard," Lien said.
Birren took a three-shot advantage into the final hole and finished with a cautious bogey. Lien parred the hole for second place while Levitt bogeyed to take third. Levitt, who retired from professional golf nine years ago and now lives in Covina, shot even par Sunday and finished with a four-round total of 283.
"Those guys are young, strong bombers and I'm just an old dinker," Levitt, who recently wrote a book on the mental aspect of golf called "The Process."
Lien, who recently took nine months off from golf, had a four-round total of 282. On Sunday, he consistently was the longest off the tee en route to a 75.
Four players tied for fourth at 284. The group included MJ Morin, who had the low round of the day Sunday, a 3-under 69. Just behind him were fellow fourth-place finishers Aaron West and 18-year-old Walker Huddy, who both had 2-under 70's.
Huddy is senior at Calabasas High School and will attend the University of California at Berkeley next year on a golf scholarship.
---
Please click here to view the 2012 Championship Flight results.
Click on the Flight to view the Net Results
President
Vice President
Secretary
Treasurer
Director
Crown City
Photos taken by Bob Paz can be viewed
here
.

---
2012 SCGA Four Ball Championship and Consolation Brackets

Click the links below to view brackets

CHAMPIONSHIP CONSOLATION
---
Questions? Please reach out to our Website Administrator, Ed Sayer via sayer @ earthlink.net (with no spaces)
---
Schedule
August General Membership Meeting: Tuesday, November 12, 2013 7:30pm
---
---
Brennan Amirkhizi wins the
2013 Pasadena City Men's Amateur Golf Championship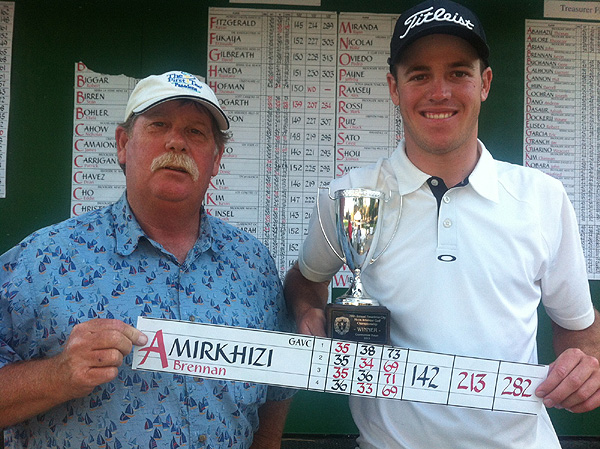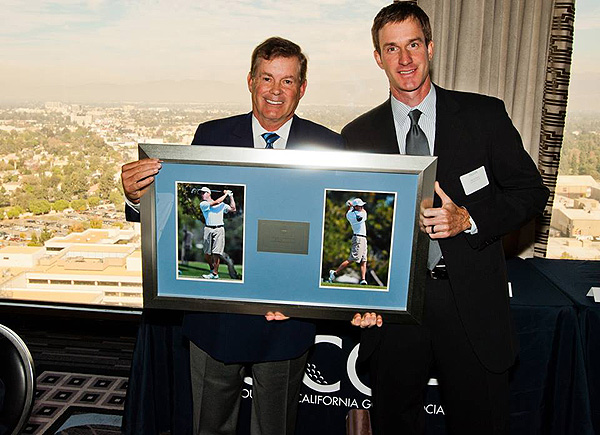 ---