Congratulations to Dan Sullivan
2014 Brookside Men's Club Champion
and
2014 Pasadena City
Men's Amateur Golf Champion


---
June 10, 2014

Dear BMGC Members:


Please see the attached notice from the City of Pasadena.



The Rose Bowl/City of Pasadena is preparing an EIR that would amend the Arroyo Seco Public Lands ordinance which would increase the number of Rose Bowl events from 12 to 21, starting in 2016, and expand the allowed uses at the Brookside Golf Course.



There will be two Community EIR Scoping Meetings and an opportunity for public comment this Thursday evening and Saturday at the Rose Bowl. This information is provided in case any of you may wish to attend the meetings and express your views regarding this proposal.



Ron Hansen, Club President
PUBLIC MEETINGS JUNE 12 & 14, 2014 ON ROSE BOWL MUSIC FESTIVAL DRAFT EIR
PASADENA, Calif.—The public is invited to attend scoping meetings either June 12 or June 14, 2014 to provide comments regarding a Draft Environmental Impact Report (EIR) that is being prepared for the proposed Rose Bowl Music Festival. The public is welcome to attend and present information that they believe should be addressed in the EIR.
The meetings are planned for 6:30 p.m., Thursday, June 12, 2014 and 10 a.m., Saturday June 14, 2014. The meetings will be held at the Rose Bowl Stadium, Loge Lounge, Level D, Terry Donahue Pavilion. Parking will be on the concourse by Gate F, enter at Gate C.
The meetings are organized by the City's Planning and Community Development Department. It is not necessary to attend both meetings. Staff will provide the same information at both meetings.
The Rose Bowl Operating Company is exploring the potential of hosting an annual musical festival, which could begin as early as June 2015. The potential event is still in the conceptual phase and public comments are requested as part of the environmental review process.
If approved, the project is an amendment to the Arroyo Seco Public Lands Ordinance. The changes proposed at the Brookside Golf Course are consistent with ongoing historical use of the golf course during displacement (large) events and would allow the Rose Bowl Operating Company to potentially host, among other events, a three-day music festival in the Arroyo Seco. The project would provide the flexibility for the City to choose either nine new additional events, or 13 NFL events.
If you cannot attend either meeting, but would like to provide comments, please contact Ms. Betty Donavanik, Senior Planner, Planning and Community Development Department, (626) 744-6756, or by email to bdonavanik@cityofpasadena.net.
Information as available will be posted on both websites: www.rosebowlstadium.com and www.cityofpasadena.net/RoseBowlMusicFestival.
---

CLUB PROGRESS REPORT

April 22, 2014

Dear Brookside Members:
We are approaching four months into our club activities for 2014, and I thought it would be a good time to provide you with an assessment of the Club. I wanted to share some of our endeavors in the first few months, and give you my impressions about the Club and what we can expect as we move forward into the year.
First off, I have come to appreciate the responsibilities of serving as a Board Director, and now as President. This is a large and prestigious club. With a membership of more than 500 men, and an annual budget exceeding $80,000 (plus $50,000 for the Pasadena City Championship), it takes time, energy and teamwork to keep moving in the right direction. All in all, I think we are doing okay. We have achieved several accomplishments this year in our tournament program and our club operations.
Thanks to the efforts of our tournament directors and members, we successfully carried out several Friday and Sunday monthly tournaments. We initiated our first major tournament, the Partners Better-Ball SCGA Qualifier. Our Entertainment Committee helped organize a special tournament with Brookside's Ladies Clubs. We hope to include the "Jack and Jill" on our regular golf schedule next year. In addition, we have completed preparations for our first "Out of Towner," at River Ridge Golf Club, in Oxnard on June 6.
Our Team Play committee completed a very ambitious schedule, involving three separate Brookside teams competing in the SCGA inter-club competition. Our Major Tournament Director and committee are working hard to bring off another Pasadena City Men's Amateur Golf Championship, which tees off on May 15.
Our club is honored to include some of the most accomplished and recognized amateur players in Southern California. Last year, Dan Sullivan, our club champion, was declared "Player of the Year" by the Southern California Golf Association (SCGA). Dan was a member of the Brookside's team which won Los Angeles County's 2013 inter-club team championship. Pat Carrigan, former Club Champion, was team captain. The other players included Mark Miller, Anthony Melillo, Greg Desario, Jeff Payne, Rob Kring, Freddy Esparza, Geoff Hugar, and John Brady. Congrats to all!
Regarding Club operations, early this year we addressed some unfinished business and initiated a number of actions to improve our membership services and club activities. Working together, the Board has done the following:
– modified our Club meeting schedule, involving fewer general
membership meetings while making the meetings more informative;
– revised the club By-Laws to accurately reflect the current practices of
the Club;
– established an Audit Committee, to review the Club's financial
operations;
- continued our involvement and support for the First Tee Program;
– initiated a review of the club website;
– compiled the Brookside Members' 2014 Club Roster, to be distributed in
June;
– developed strategies to raise public awareness of the Club by
distributing BMGC business cards to members and installing signs
about the club in all golf carts;
– examined the issue of pace of play, including standards of "ready golf"
for all Brookside golfers to follow;
– converted our clubhouse storage room to a more functional space for
both administrative and storage functions.
In addition to these activities, we have improved communications with members, in person and via the website. Several members have come forward with ideas about the club. Their comments have focused on pace of play, tee times, tournament scheduling, prize fund policies, sand- bagging, and membership issues. Some members have recommended course improvements, such as shoe-cleaning brushes near the teeing grounds, a clock tower near the driving range, a better trophy case, and surveillance cameras around the clubhouse to curtail theft of golf equipment.
While we are making progress in these areas, we remain aware of some of our weaknesses and vulnerabilities. Like many other clubs, we are losing members. One of our priorities is to turn this around. Since Club revenue comes from membership dues, our income is down. If these trends continue, we will need to revise our program to reflect a leaner budget. Working together, we should be able to stabilize this and continue our tradition as a great golf club.
Looking forward, we know there are things we need to do for continued success. We need more members with the skills and time to participate in the work of the Club. We can use some help in member recruitment, financial management, website management, and program improve-ments. While there are limited positions on the Board, and only a few seats voted upon each year, there is still opportunity to get involved. Members can serve on, and even preside over, Club committees and special projects. Such experience is a good grounding for eventual service as an elected member of the Board. Interested members should give me a call!
I will continue to send out messages, from time to time, to let you know how things are going. In the meantime, please feel free to contact me if you have any concerns or suggestions about the Club.
Sincerely,
Ron Hansen, Club President
(323) 317-8398
---

Addendum to the local rules for all BMGC tournaments and matches:
Any damage caused from vehicles parking on the golf course for Rose Bowl events is ground under repair (GUR). This rule is through the green (whole area of the course except the teeing ground, the putting green being played and all hazards).
Relief is the closest point no nearer the hole for stance and swing. No penalty.
---
Brookside is located next to the world famous Rose Bowl in Pasadena, California and is managed by American Golf and the Rose Bowl Operating Company.

---
Dan Sullivan earns first SCGA individual title with 2012 SCGA Public Links Championship victory

http://www.scga.org/2012publinks/results.aspx

After winning a slew of partner events, Brookside GC member Dan Sullivan won his first individual SCGA title Sunday, beating Kevin Fitzgerald of Riverside in a playoff at the 2012 SCGA Public Links Championship. Sullivan birdied the first playoff hole, the par 4 first hole of Brookside's #1 course, to secure the victory.
"I've been playing in these events for a long time, and it feels great to finally win one," said Sullivan.
Entering the day with a two-stroke lead, Sullivan got out to somewhat of a rough start Sunday, bogeying his first hole of the day. After finishing the front nine at 2-over par, the Pasadena resident finally earned his first birdie of the round on the par 5 559-yard 11th hole. He would eventually finish the round at even par, giving him a three-day total of 9-under par 205.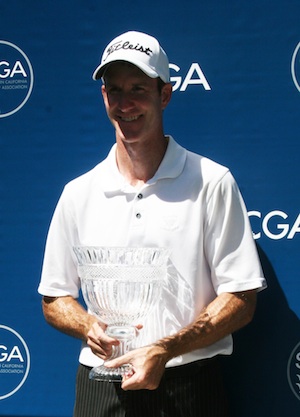 Fitzgerald matched Sullivan's score of 205 for the tournament, carding a 2-under round of 70 Sunday to force the extra hole. His tee shot on the first playoff hole went right of the fairway, however, leaving the door open for Sullivan to make his move. After firing his tee shot right in the middle of the fairway, Sullivan hit what he called his best shot of the weekend, landing his second shot just two feet from the hole. He would tap in the easy putt for birdie and the win.
"I hit a bad drive there earlier in the day, so approaching the tee I was really just focused on hitting a good first shot," said Sullivan. "I was fortunately able to do that."
16-year-old Jonah Texeira of Northridge earned himself third place at the event, finishing just one stroke behind Sullivan and Fitzgerald. Texeira kept himself in the hunt with the day's best round, a 4-under par 68, but trailed the leaders by one stroke heading into the 18th hole. He was unable to birdie the hole on a tough uphill putt that went wide of the hole.
Sean Birren of La Verne finished in fourth place while defending champion Tim Hogarth, Brennan Amirkhizi and Jeff Coburn tied for fifth. Sullivan had also won the event back in 2008 when it was still called the PLGA Amateur Championship.
---
Dan Sullivan and Mark Miller take 2012 Foursomes Championship Crown
http://www.scga.org/2011calendar/foursomes.aspx
After one of the most dramatic finishes in the history of the SCGA Foursomes Championship, the team of Mark Miller and Dan Sullivan emerged once again as victors for the second consecutive year.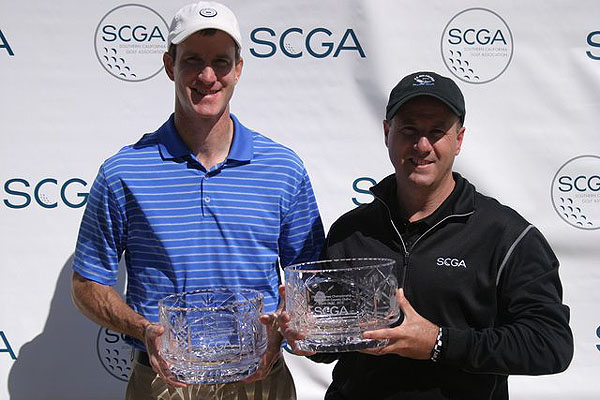 For those who know North Ranch CC, it's no secret that no lead is safe heading into holes 17 and 18 on the Oaks nine. After developing a two-stroke lead heading into the difficult 17th, the duo of Miller and Sullivan carded a double bogey five, which put them in a tie with the team of Tim Hogarth and Corby Segal with one hole to play. Segal's approach shot to the 18th came to rest just beyond the green. After encountering a brutal lie in the rough, Sullivan managed to gouge out an approach shot which ended up short and left of the green. Now faced with a 30-yard pitch shot, Miller hit a shot that any golfer would dub unbelievable.
"I caught it a little thin, and when it was in the air I was just hoping we'd have a 15-foot putt coming back," said Miller. Instead, the pitch shot was gobbled up by the flag and suspended in the air for a moment, only to softly land within two inches of the hole. After Sullivan tapped in for par, the side had posted a score of 147 (+3). It was up to Hogarth and Segal to get up and down, but when the side's attempt at par did a 90 degree lip-out, the championship belonged to Miller and Sullivan.
"We play together all the time and really like hanging out – that shouldn't be underrated," said Sullivan in reference to their success as a team. In fact, both players admitted that they are better as a team than they are individually. Ironically, the two-time defending champs admitted to not really having a strategy. "Dan is a much better iron player, so we tried to set up the holes in a way where he'd be hitting the majority of the iron shots," said Miller. Sullivan, too, gave ample praise to his partner, stating during the awards ceremony that Miller had carried him for 36 holes. Perhaps not placing blame or taking credit is the key to conquering this difficult format. When asked if they considered themselves the best two-man team in Southern California, the modest duo simply shook their heads. That said, after back-to-back wins at the Foursomes and a second place finish at the Four-Ball, it's tough to argue that any team is any better. They've never finished outside the top six when competing together in a team event.
Playing alongside brothers Joey and Tony Behrstock as well as Hogarth and Segal proved to be a great final pairing for Miller and Sullivan. Commonly referred to as the "Brookside All-Stars" Miller, Sullivan and Hogarth routinely play together at Brookside GC. Miller also played high school golf against Segal, so there were definitely familiar faces in the group.
While Hogarth is no stranger to playing in the final group in SCGA championships, Segal is relatively new to this position. The two paired up due to the fact that they play a similar game. "He hits it straighter than I do," Hogarth jokingly said. "I'd take him as a partner any day." The reason Segal doesn't play in as many SCGA events is because of the travel associated with his day job – he's the caddie of PGA Tour professional, Briny Baird. When asked about his nerves today versus a crucial round on tour with Briny, Segal admitted that playing is a lot harder. "I'm always around the caddying aspect of the game, and talking is a lot easier than doing!"
The Foursomes Championship proved once again why it is the most grueling event in the SCGA's championship rotation. The alternate shot format makes it nearly impossible for players to find a rhythm as it is such a different format of play than most are accustomed to. "You can never say sorry to your partner," said Dick Engel who finished in a tie for third place along with partner Brent Brockermeyer. "Stuff happens out there, and that's just golf." North Ranch CC didn't surrender a single red number, and only two teams managed to shoot one round of even par (72) throughout the tournament.
After being doused with 1.8 inches of rain the day prior to the event, the course drained incredibly well and proved to be in excellent shape for the two days of play. Kudos to the entire staff and membership at North Ranch Country Club for being exceptional hosts.
---
Brennan Amirkhizi wins the
2013 Pasadena City Men's Amateur Golf Championship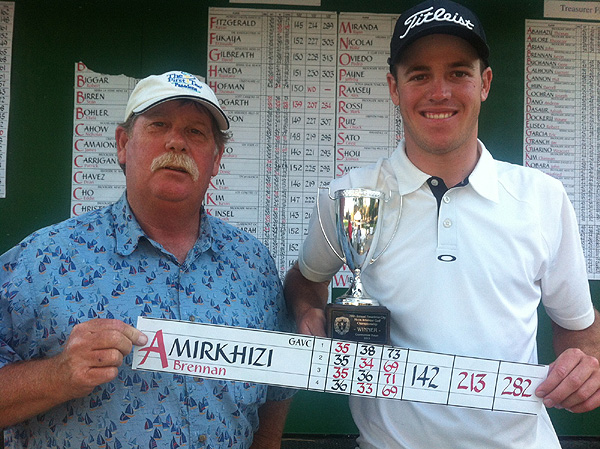 ---
ATTENTION ALL BMGC MEMBERS